To fixate on an itinerary for your holiday to Goa can be a mammoth task. A perfect day out in Goa would entail sitting by the golden sandy beach, snacking on some fresh and spicy seafood while sipping on a cold beverage, this is the epitome of the perfect vacation. On the flipside, the cathedrals, ancestral homes, Portuguese villas, the ancient temples, and the cities by itself are charming and should be visited at least once.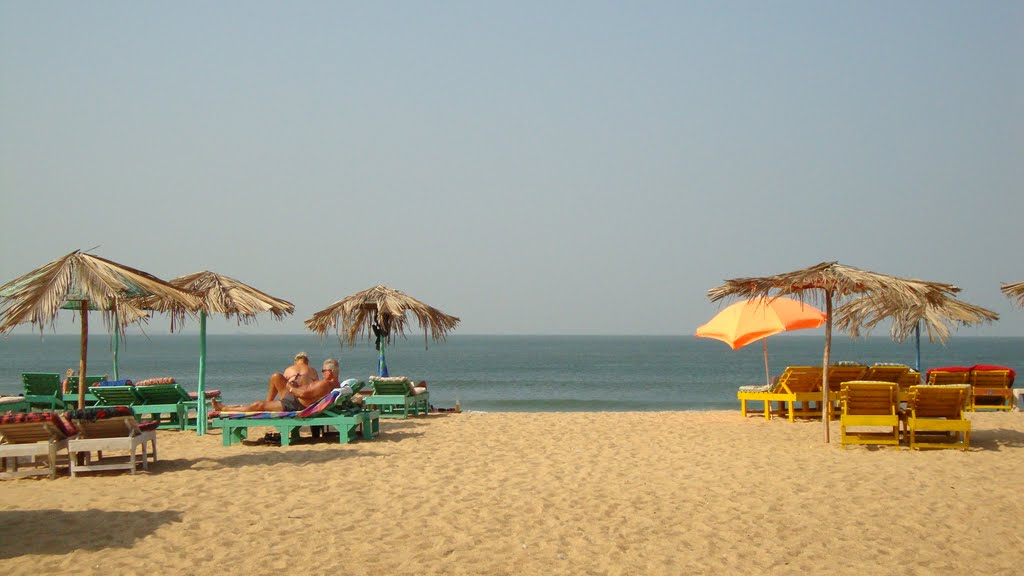 The following list is a perfect blend - explore both new and old sights, soak in some of that history and have an adventure or two. We guarantee that this trip to Goa will be the perfect mix of new adventures to try!
Here are the top 20 things to do in Goa, in no particular order:
Dudhsagar Falls - Looking for some water action? Dudhsagar Falls is just the place for an exciting start to your trip to Goa! The milky white waterfalls is an amazing place to go trekking, even at 6:00am! You can take a guided walking tour or take a dip. Dudhsagar falls is located on the Mandovi River in South Goa near the Karnataka border.
Church Of Our Lady of Immaculate Conception- The exterior is beautiful and is predominantly crafted with baroque architecture with an Indian influence. Originally built for sailors returning from their journeys, this is now one of the most famous spots in all of Panjim and Goa. If you get the opportunity, try visiting this church in the month of March, to see the church in full form during the annual Church festival.
Fort Aguada - Looking over the vastness of blue waters that seem to be boundless is Fort Aguada. A tourist destination that is popularly known for its lighthouse, the strategic hilltop location is an ideal spot to watch the sun set and display its evanescent shades of oranges and reds. The historical fort has been preserved for almost 400 years now! This strategically built fort was used in the heydays as a defense against outsiders. Now, it is the perfect place to experience Goa's history!
Mangueshi Temple - The perfect example of a cultural melting pot, the Mangueshi Temple has a lot of significance among the locals. The beautiful Maratha architecture is a sight to behold! Don't forget to don the traditional dress code and listen to the enticing story about this temple from your tour guide.
Pequeno Island - When you are done with sightseeing and frolicking on the mainland, catch a ferry to Pequeno Island, known better as Bats Island. Rocky beaches, empty stretches of greenery and an old-world charm are what you should expect on this island. And if you have an entire day, you can snorkel, swim or even just lie still on the beach and soak up the sun!
Divar Island - If you are looking to exploring some offbeat places, then consider adding Divar Island to your list! Located in North Goa, the island is untouched by city life. You can hike among the paddy hills and reach the top most point of the island. Revel in the breathtaking views of the undisturbed Goan countryside. You can also pre-book a cycling tour if you're not afraid of a little physical exercise even while on a vacation.
Take The Spice Plantation Tour - Spice plantations in Goa? Yes, yes and yes! And you can also take a tour! Do something different and book yourself a ticket for a spice plantation tour. You can visit the Savoi Plantation, Tropical Plantation, Abyss Plantation, or the Sahakari Spice Plantation - four different places with a variety of different spices. Located in the Ponda region, all these plantations use organic methods of farming.
Visit The Lamgau Caves - Not a lot of people think of caves and Goa at the same time. However, these spectacular caves are located in Bicholim in North Goa. The caves are a significant part of Goa's history because you can see both Hindu and Buddhist influences in the carvings. They are not easy to get to, so keep your best hiking shoes ready.
Take A Hot Air Balloon Ride - After you have explored the sights of Goa on the ground, it's time to explore them from the skies above. You should head to the Assolda ground in South Goa for an adventure early in the morning hours. You will be taken up, up and away in a hot air balloon. The guide will take you up to nearly 9000-feet! Even if you are a little scared of heights, this is definitely a must-do!
Go On A Jungle Safari - Cotigao Wildlife Sanctuary is very different from other wildlife sanctuaries. The uniqueness lies in the fact that almost no light reaches the ground because of the tall flora. However, a guided tour offers the perfect opportunity to see some wildlife! Located in South Goa and very close to the Palolem Beach, Cotigao is perfect for animal lovers.
Shop At The Anjuna Flea Market - Everyone who's ever been to Goa has been to Anjuna beach. Anjuna might be a small town but its influence is well-beyond even the boundaries of the state. If you are planning to spend a day at the beach, head to the Anjuna flea market at the end of the day. The cute knick-knacks and souvenirs are the perfect gifts for friends and family who always expect a gift or two upon your return from a vacation.
Visit Crocodiles At The Cumbarjua Canal - Explore a different kind of jungle with a visit to the Cumbarjua Canal. You'll find crocodiles out in the world, eating, hunting, sunbathing, and just generally slithering around. Don't worry; you won't be walking in their territory, just observing them from a boat in the canal!
Visit The Dil Chahta Hai Fort - This North Goa spot in Vagator was made popular after the shoot of the iconic Goa scene from the Bollywood movie, Dil Chahta Hai. The scenic view of the Arabian Sea is not worth missing. So whether you visit any other historical location or not, this tourist spot near Vagator Beach is a must-visit!
Go White Water Rafting - You should absolutely go through the enthralling experience of white water rafting in Goa. Doesn't sound like a very Goa thing to do? Well, head over to the city of Valpoi in North Goa and go on a three-hour enthralling ride in the Mandovi River.
Try Goan Cuisine - Whether it is Bhatti Village in Candolim or Mum's Kitchen in Panjim, you must definitely try authentic Goan cuisine! From delicious seafood preparations to delectable vegetarian dishes, Goan cuisine is a treat for your taste buds. (More about this in the foodies tab!)
Try your luck at gambling on the Casino Cruise - So you like to gamble a little? Nothing wrong with taking a little risk right? So why not try your luck in Goa? In one of the many floating casinos housed in the huge boats anchored on the Mandovi River. From slot machines to Black Jack to Roulette, there is something for everyone. The Deltin Royale and the Casino Carnival are highly recommended casinos.
Watch The Dolphins - Dolphins in Goa? Yes, sir! There are numerous cruises that happen every day in Goa that specifically take you to locations where you can see Dolphins frolicking in the sea. Dolphins are the gentlest creatures in the sea and the friendliest as well. You can either head to one of the surrounding islands or take a cruise from Panjim or Fort Aguada.
Go Sunset Kayaking - Enough of daytime adventures, it is time to try something new. When in Goa, you must take a sunset kayaking tour starting in Bambolim.This tour starts around 4:00pm and gives you a chance to experience nature in the beautiful sunset light. A guide will help you navigate the backwater marshes and you will definitely end up loving this entire experience.
Take A Surfing Lesson - Goa is not known for surfing as much as it is known for parties on the beach. But, pick any beach and you will find surfing instructors ready to give you a basic lesson. You must try your skill on the waves even if you are just a beginner. For those who prefer something more complicated, windsurfing is the perfect activity. Make sure you add this unusual activity to your itinerary to make your trip to Goa unique!
And if you want to plan a day trip or want to visit these listed spots, places or more, just get us, MyGoaStay to plan your local travel itinerary for you.