The state of Goa and the word beaches are synonymous, something that needs no introduction. Lined with swaying palm trees, delectable food shacks, thrilling water sports and bustling nightlife, it is the perfect destination for sun and sand lovers. The Goan coastline of 311kms is lined with best beaches in Goa. Each beach brings with it, its own charm and uniqueness to the table. Some sandy, some rocky, some meant for swimming, some tailor-made for relaxing and sunbathing, some giving a whole new meaning to tranquillity and some swarming with tourists and holidaymakers. Whatever path your trip to Goa takes you on, all the Goa beaches have something specially carved out just for you.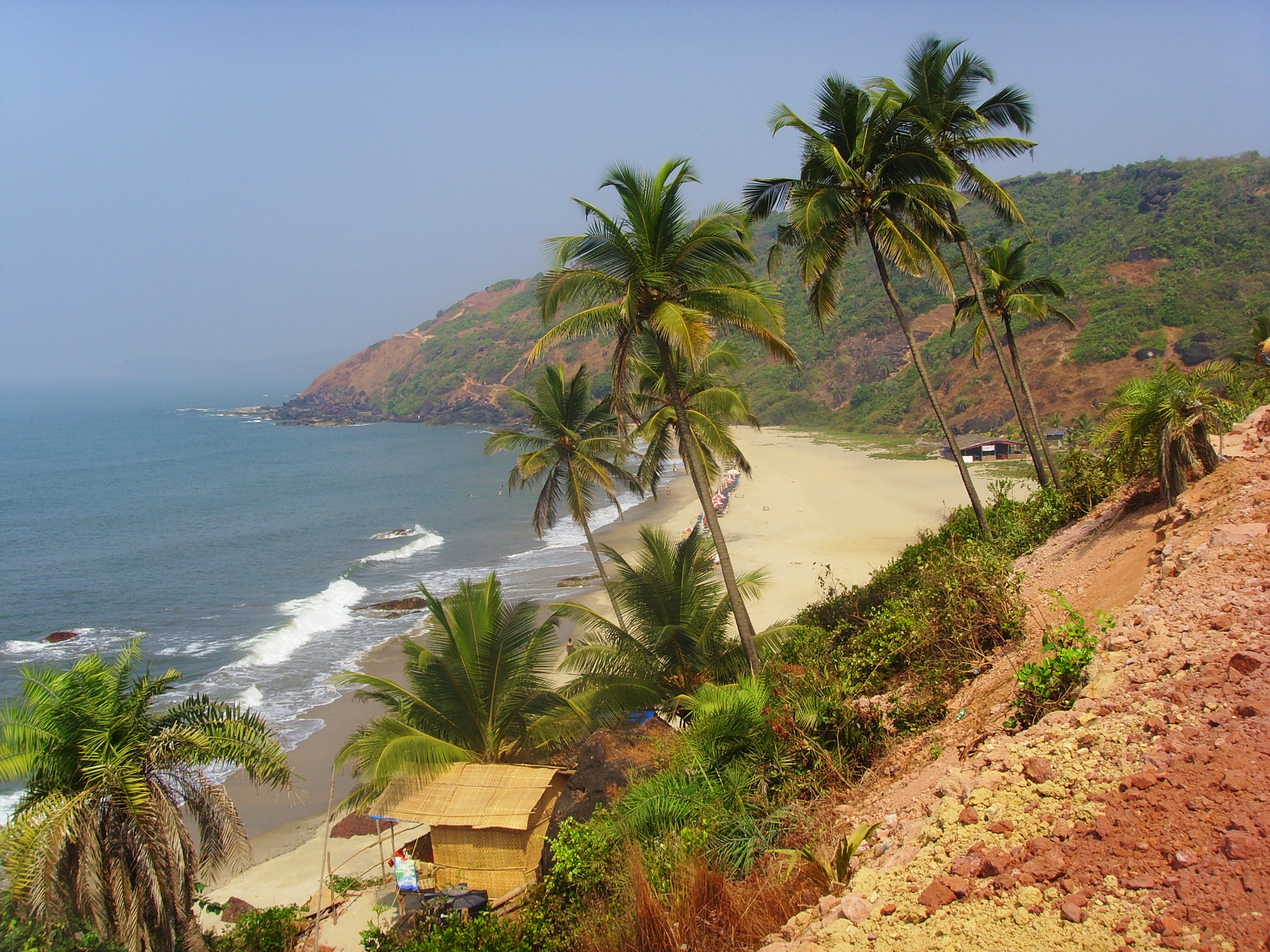 Beaches in North Goa:
1) Arambol Beach, North Goa– The ambience floating through the air spells laidback and alternative which brings in the likes of bohemian travellers. It's popular as it's known to preserve and maintain the tranquil atmosphere of the area. The white sandy beach stretches far and wide and is speckled with cafes, restaurants, water sports, live music, unique and quirky boutiques and fun activities. Come experience hippie culture at its heights.
2) Mandrem Beach, North Goa– A deserted and secluded beach that provides the perfect setting for newlyweds, couples, honeymooners and lovers to spend a quiet, calm and romantic weekend. Going for long walks along the beach, watching the sunset that blends into the horizon, enjoying a candlelight dinner and lying down indulging in some star gazing, would be a perfect way to spend time here.
3) Morjim Beach, North Goa– As Morjim is home to many Russian natives, it is popularly known as 'Little Russia'. It is also home to the Olive Ridley Turtle but over time, due to habitation and growth, the turtles have reduced their visits. It's a good spot to lookout for birds, hillocks and enjoy some good food.
4) Vagator Beach, North Goa– White sands with contrasting black rocks, swaying palm trees, lush greenery and the azure of the waters along with its rustic beauty is what defines Vagator in North Goa. There's plenty of natural beauty in the vicinity which brings in serenity and calmness. People who wish to seek refuge from the hustle and bustle of Goa can stroll and amble along this white-sanded beach. The beach is surrounded by easy to trek hillocks and rocks. This beach is famous for the Chapora Fort also called as the 'Dil Chahta Hai' fort apart from hosting the Sunburn Festival every year. Choose your sin when you're here – stroll, relax, laidback style or rave.
5) Anjuna Beach, North Goa– A sweet combination of beauty and lively people brings this place to life. The vibe of this place spells hippie and the bohemian love spreads around generously. Quite famous for its culture and trance parties that begin at sunset, the extensive shopping range too comes with a boho touch. Don't miss the flea market that takes place here every Wednesday.
6) Baga Beach, North Goa– One of the most sought-after beaches that are known for its nightlife, parties on the beach and superb seafood. It's flooded with tourists' who are drinking, partying and dancing the night away to some pumping beats. If you enjoy crowds, there is nothing like this place anywhere! Baga creates the perfect atmosphere for excitement and enjoyment, so let loose and give into Baga. Also, this area has anything and everything you need in terms of food, restaurants, hotels, resorts etc.
7) Calangute Beach, North Goa– In close proximity and almost adjoining Baga beach, Calangute beach is the hubbub. It has water sports, restaurants, shacks, markets, lots of options for accommodation, good food, white soft sand and cold beverages. An average day in Calangute looks like that from a postcard – rows of shacks, lots of people, beach chairs for sunbathing and adventurous people indulging in water sports. Of course, it's a popular beach and hence attracts crowds!
8) Candolim Beach, North Goa– Candolim beach is a silvery looking beach that is laden with shacks, restaurants and other commercial activities. Although it's a beach that is visited quite often, the crowds are a little less and hence the beach is better kept.
Other, popular beaches in North Goa include: the Keri or Querim beach, Chapora beach and Dona Paula beach.
Beaches in South Goa:
1) Colva Beach, South Goa– One of the most celebrated and the oldest beach in Goa, Colva beach is lined with coconut groves and fine-grained white sands. In October, this beach is flooded with Indian pilgrims who want to visit the Colva Church. You can clearly set sights on the influence of Portuguese colonization.With nightlife and entertainment not high on the quotient, this place is not so sought after by foreigners, so there's some much required quietude that one can get from around here. This being said, the culture and authenticity make this place feel truly Indian.
2) Benaulim Beach, South Goa– This beach has as much greenery as the waters around it. It is the beach to be if you want to relax and just laze by the beach and catch some Vitamin D. It is an undiscovered beach which spells out its charm all the more when you are here.
3) Agonda Beach, South Goa– Well-known for the Aguada Fort, this is quite an isolated beach which brings out its true beauty. It's a peaceful beach as opposed to the crowded beaches in North Goa. To truly appreciate stillness and watch as the day passes by minute by minute, visit the small fishing village and its beach Agonda. It's a good spot to swim and catch a number of water activities.
4) Palolem Beach, South Goa– In the southernmost tip of Goa is the famed, charming, "Queen of the beaches," also called as 'Paradise beach' and it's a beach that definitely stays true to its name. Palolem beach is a crescent-shaped beach that is rather small but remains unspoilt. It embraces you with open arms to its rocky terrain covered with lush greenery, natural beauty and super friendly locals. Walk along the beach with clean white sands and stunning views or partake in a number of water sports or spritz your palette with some Goan food at some of the best shacks. And you may even take a boat ride into the many tiny islands nearby. This place is something else, it's as close to a foreign land as it can get. The shacks are lined up just right to view the sunset and sunrise. Only if you visit once, you will know the effect that Palolem can have on you. You will yearn to go back.
5) Butterfly Beach, South Goa– If you are in the quest of a romantic beach haven, then Butterfly Beach in Goa is perfectly-sized. And why Butterfly? The name is derived from the many species of Butterflies you can find here. This beach captures the romantic milieu and isn't as inhabited as the other beaches in Goa. The beach is situated to the North of Palolem beach and is made-to-order for the occasion. An untouched, out-of-the-way beach, the place, the sun, the water and the sands are perfected for a romantic outing. It is indeed rated as one of the most beautiful beaches in Goa and everything about the beach is like a picture-perfect setting. And the only way to reach here is via boat from Palolem beach.
6) Talpona Beach, South Goa– Another unspoilt beach in South Goa, which makes you feel like you are in a foreign land. This beach remains an undiscovered gem which is waiting to sink you into its beauty. This laidback and low-key stretch of beach has clear waters and is a hidden paradise in a Pandora's Box waiting to open and flaunt its attributes. It's a place to seek solitude and solace, away from all the hustle and bustle. It's a beach almost empty and hence, you can do some soul searching and complete your vacation feeling refreshed and revitalized.
7) Galgibaga Beach, South Goa– A beach that is not visited often, has kept its charm intact and is waiting to be resurrected each time people come by. This beach is truly pristine and untouched, giving you the perfect opportunity to let loose, breathe out and just give in to the sun, sand and serenity.
8) Cavelossim Beach, South Goa– This stretch of beach is not as widely known, although it's starting to gain some momentum. It has a lot of posh and swanky hotels in the vicinity. The multiplying upscale and high-class resorts in the locality have resulted in a clean and pristine beach. It's definitely not a beach for the happening parties; on the contrary, you will not get this kind of peace and quiet with world-class service anywhere else. It's your time to be pampered and treated like a king.